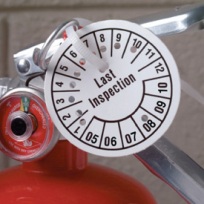 Fire extinguisher inspections & maintenance is an essential part of your WHS obligations. Work Cover in each state requires fire extinguishers to be serviced / inspected every 6 months and to be pressured tested every 5 years.
Victory Net can provide you with 6 monthly inspections to ensure that your extinguisher is working and charged and ready for use. The inspection generally involves checking that the extinguisher is located in its proper place, that it has not been used or tampered with, and that there is no physical damage or condition to prevent it from functioning. That instructions are clear and facing the right way.
Fire extinguishers do not have an indefinite life, even if they are never  used.  Work Cover requires extinguishers to be pressured tested every 5 years.
There are different levels of services for fire extinguishers
Level 1:  6 Monthly Extinguisher Maintenance Schedule, consisting of specific extinguisher checks.
Level 2:  12  Monthly Extinguisher Maintenance Schedule, consisting of Level 1 procedures plus other specified functional checks.
Level 4:  5 Yearly Pressure Tests.
Inspections should include checks that each extinguisher:
Is located in the designated place;
Is unobstructed, visible and its operating instructions face outwards;
Has operating instructions which are clean and legible;
Is not obviously damaged;
Has a reading in the operable range or position of any pressure gauge or indicator fitted;
Has seals and tamper indicators which are not broken or missing
Weighs the right weight.
Wall Signage is correct according to the extinguisher and is displayed in a visible position.