The Future of Alarms has Arrived!
Not to be confused with video surveillance, Videofied is a burglar alarm system with built in video and voice verification (where installed).  The availability of Videofied  now makes video verification burglar alarms affordable to the marketplace, and leads the way forward in shaping the future in security alarm systems.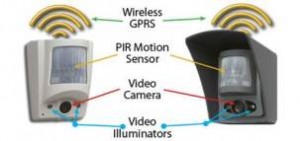 Videofied is a revolutionary new product that is completely wireless with batteries lasting up to 4 years, it uses alarm, camera and GSM technology to create a verified alarm system which can be installed anywhere there is a mobile phone signal. This system is monitored 24/7 365 days a year by our Grade A1 monitoring centre.
Videofied provides the monitoring centre with actual vision of an intrusion allowing them to determine if an actual crime is in progress or if it is a false alarm.
A sophisticated motion sensor combined with a night vision camera detects and captures an intrusion on video and sends a 10 second clip of the intrusion to our monitoring centre verifying an actual intrusion. Depending on what videofied system you install 2 way voice communication can challenge and verify a crime in progress. Our monitoring centre then calls the police and gives them a verified crime in progress.
Videofied security systems deliver police when you need them – through video verified alarms.
Videofied systems can be installed anywhere, no wiring needed.
This revolutionary product has seen scores of intruders, vandals, trespassers and graffiti offenders arrested by police and guards throughout Australia over the past year. These arrests have largely been due to Australian law enforcement alarm response policies and practice focusing on Video Verification of alarm activations. Policing the community is a far too important task to have the time of our police wasted with unnecessary deployment to reported false alarms.
– Security Solutions magazine (March – April 2010)
Instant video of intrusion with 2-way voice over GSM mobile. (2 way voice where installed)
Wireless MotionViewer (sensor/camera) with true night vision.
GSM mobile communicator eliminates all VoIP, IP or PSTN connections.
Privacy assured as each MotionViewer camera is only active during alarm.
UNPLUGGED – totally wireless and no AC power needed.
Intergrated proximity card arming/disarming for ease of use.
Up to 20 cameras (sirens, reed contacts, keypads or other devices)
4 years battery life on panel and other devices
Great for building sites can be fixed into movable containers.
See Videofied in action