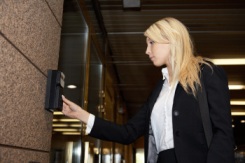 Security management plans are becoming more and more essential within the corporate sector since the increased threat of terrorism.  Access Control is just one of the steps that can be implemented as part of the security management plan.
Victory Net has the experience and qualifications to advise on a solution to secure the environment you work within. As part of every solution delivered, manages the administration of the system. This would cover administration of new starters / leavers access, times of access, alarm activation,  system support and various user reports.
Access control systems can do so much more than just provide access or deny access to doors through use of swipe cards. It is also possible to program the system to turn on and off lights, air conditioning, lifts to only operate during certain hours and for certain users, or even to operate the gardens' drip feed system. The options are endless and we will be pleased to make recommendations to suit your situation or premises.